Yet another positive year for Bransford Webbs!
Company: The Bransford Webbs Plant Company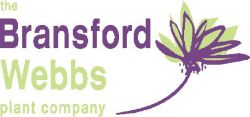 The year began with the wonderful achievement of being awarded Silver in the Finished Plant and Tree Production category at the International Growers of the Year Awards, in Essen, Germany.
Honours continued at the National Plant Show with the recognition of third in the 'Planting the Seed' award for inspiring customers with our stand design, and Silver in the Retail Concept Awards for Proven Winners® in conjunction with Kernock Park Plants.

Building has continued with the construction of 2500m2 of polytunnels in early spring, taking the total covered growing space on the site to just under 6 hectares. Several new ranges – Proven Winners®, Garden Orchids and Hebe Addenda - were launched during the year, and all have been met with positive responses from garden centres leading to increased availability for 2018.

On a personnel level, the company has undergone the successful transition to a new Managing Director, Adrian Marksell, with Christine Chalmers, Production Director and Richard Colbourne, Financial Director, taking on increased responsibilities. Two of our younger members of staff won the 6 pack award to attend the IPPS International Conference in Amsterdam, where they gained valuable experience from both lectures and visits. Our apprenticeship scheme continues to be increasingly successful with two new apprentices starting the two year course in September, whilst our two current apprentices have another year to complete.

"2017 has been another successful year for Bransford Webbs", commented Adrian Marskell, Managing Director. "Sales have shown good year on year growth and the nursery, both in terms of facilities and personnel, continues to go from strength to strength. This is all down to the hard work of the whole team and everyone is looking forward to another successful year in 2018".