New branding and website launch for Apta
Company: Apta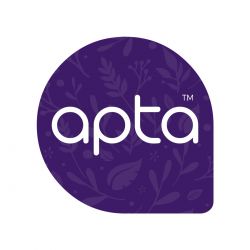 Over the last few months, leading pot supplier Apta, have been busy working on new branding and a new consumer focussed website. Apta are hoping to create inspiration for consumers, particularly those under 50, who according to reports out this week, over 65% get their gardening tips and inspiration from online or social media sources.
The new website www.apta.co.uk helps consumers filter their way through different styles of product to find the right one for them.
National Sales Manager Darren Boorman said "the new logo design injects colour and the contemporary style reflects our company strategy to provide high quality innovative pots and planters. We are keen to bring the Apta name forward as a recognised brand leader in pots"
Outstanding start to the season for Apta
2018 has seen a record level of pre-season sales for Apta. After posting record breaking sales last year, 2018 has started even better with pre-season sales from independent garden centres up 24%.
Apta put this down to their focus on new product development, with high quality innovative garden planters, designed in the UK for the UK market.
Notable amongst the new ranges are the contemporary and lightweight styles, such as Granito, Stream, Victorian, Slate effect, and Alpine planters.
Apta aims to raise £100,000 for charity
This year, leading pot supplier Apta, have officially partnered with The Royal British Legion and are aiming to raise over £100,000 for the charity through sales of their innovative wall plaques, wall pots, and planters, with a donation equal to 10% of the RRP.
Managing Director Paul Sykes said "we initially set out to raise £25,000 but we have almost passed that figure already and the season hasn't even started". "We have created 3 different retail solutions to suit all garden centres".
Outdoor pot trends for 2018
Over the last few years, according to leading pot supplier Apta, there has been a significant trend towards lightweight planters.
With home ownership among the under 40's at an all time low and favouring renting instead, coupled with the increase of micro sized or non-existent gardens, consumers are frequently turning to container gardening on their patios, gravel courtyards or balconies.
Another key trend is the materials used to make the pots, such as the expansion of frost-resistant lightweight cements. According to Apta's Managing Director, Paul Sykes, this allows far more flexibility in shapes and finishes of the pots, from ultra sleek and contemporary to rustic and heritage. According to Sykes this trend is driving the whole planter category, "in 2017 lightweight products accounted for 23% of total sales, and already this year we have seen further growth of 38% in this category".
Popular styles launched for 2018 include Granito, Stream, Dubai, Victorian, Slate effect, and Alpine planters.
For more information please visit www.apta.co.uk, call 01233 621090 or find them on Twitter, Facebook, Instagram and Pinterest at @AptaPottery.