Greenman Garden Tools introduces their garden rake range
Company: Greenman Garden Tools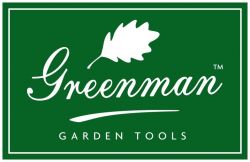 Introducing the Greenman Garden Tool Lawn and Bow Rake. Like all the tools in the Greenman range these stylish and well-made rakes will provide you with many years of faithful service. They feature extra-long sculpted ash handles (which means less reaching ), with a tapered waist and a knobbed end that makes them perfectly balanced and a pleasure to use. The signature lipped socket gives a vintage feel to the rake and extra strength to the join between the quality stainless steel head and ash handle.


R1672 LAWN RAKE RRP £25.99
Ideal for removing thatch from lawns and raking up grass clippings, leaf litter and plant debris. The angled tines ensure a good and correct amount of contact with the ground.
L: 160cm W: 43cm Weight: 1.16kg for a guide to its features and benefits visit https://youtu.be/8KfeNLuM2xo

R1646 BOW RAKE £20.99
Perfect for levelling the soil and creating a fine tilth. The head has its teeth cut from one piece of steel for added strength and is attached with the traditional bow supports.
L: 170cm W: 36cm Weight: 1.34kg
Kendal Ernest, Sales Director for Eliza Tinsley "Rakes are in demand this time of year, the Greenman Garden Tool rake range is exciting and different, with functionality at its core. The Bow and Lawn rakes have undergone years of product testing with trusted allotment groups to ensure the design has been honed to give the very best performance, ease of use and longevity. The extra-long handles mean less bending and greater reach and our unique lipped socket gives strength as well as style to these essential garden rakes."

For more details on the Greenman Garden Tools range visit www.greenmangardentools.co.uk or ring 0121 502 0055