elho launch 2021 collection and new, softer colour palette
Company: elho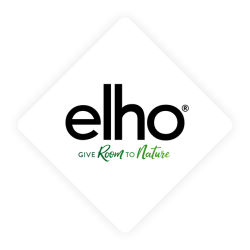 elho has launched a 2021 collection and a new, softer colour palette to complement a wide range of aesthetics and encourage more people to give room to nature both indoors and outside.
For 57 years, elho has been creating beautiful pots to inspire as many people as possible to connect with nature and help make the world a greener place. All elho products are designed with nature in mind and are 100% recyclable, with 80% of the raw materials used to make them being from recycled plastic. The production process is sustainable too and runs on 100% wind energy generated by elho's own windmill at its office in Tilburg in Holland. elho even has 2,000,000 bees producing honey in the grounds of the offices!
The new collections will make it easier, and more beautiful, for people to surround themselves with nature and was developed with the rising popularity of sustainability and indoor gardening in mind.

vibes range
vibes is a range of indoor planters set to make an eye-catching addition to any home. They have a textured finish and are ribbed both outside and in. The slightly rounded body, and decorative pattern utilise organic and soft shapes to reflect the beauty of nature. This is furthered by the introduction of four new pastel shades – butter yellow, delicate pink, deep blue and silky white. The collection consists of four sizes (14cm, 16cm, 18cm, 22cm).


fuente range
For those looking to add interest to their outdoor space, the new fuente range of sustainable flowerpots is available in three sizes and three different patterns: a lush foliage motif, modern rings around the pot and an embossed pattern. The range has been designed to add style to gardens, terraces and balconies, and thanks to the addition of a plug they can be used indoors as well. The patterns have been designed to appeal to classic, modern or industrial style preference and each one comes in four size options (30cm, 38cm and 47cm).
Available from 1st of January 2021.

green basics outdoor range
elho has also bolstered its existing green basics outdoor range with a compact, 35-litre rain catcher to help gardeners contribute to the sustainable use of natural resources. The modern, attractive design features a tap at the ideal height for holding a watering can underneath and combines sleek good looks, practicality and eco-credentials. This size is perfect for small gardens or balconies.


The greenville range
The greenville range has been expanded to include a slimline trough (available in two sizes - 50cm and 70cm) to add a touch of nature to the smallest of spaces, being developed for small gardens, patios or even windowsills. The pot has a built-in water reservoir, so that the plants need less tending to and are safe from drying out.

corsica range
Vertical gardening is another planting trend that has been considered, with the best-selling corsica range adding a larger version of the vertical forest to its collection enabling the creation of lush, green oases in the middle of the city. Simply click the pots together for an easy way to make most of limited space. The planter is available in six colours, from vintage blue to vivid violet so there is an option to suit every taste.
For more information please visit www.elho.com.