Create beautiful garden rooms with Elho
Company: elho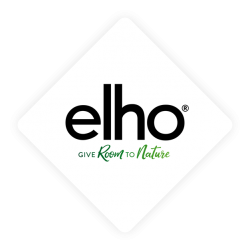 The concept of creating different garden 'rooms' is becoming more popular as home owners and renters alike are short of indoor and outdoor space. Appeal to a wide range of customers by demonstrating how they can use different Elho pots and planters to divide a garden, patio or balcony into zones. To successfully design a beautiful space that suits multiple different tastes, ages and functions.
Create an eye-catching display in store using outdoor dining sets, sun loungers and other garden furniture. Divide the space into different zones using planted up pots and planters. Why not challenge your staff to draw more customers in by creating a new layout every week? Or even ask your customers to have a go. Here are some ideas to get you going.
The multipurpose garden
Garden rooms can be used to create zones for different uses, such as a dining area, play area or meditation space. Introducing interesting foliage in a line of Loft Urban Terrace planters takes up little space and creates a clear divide between a lounging and dining area.
Or fill Algarve Terrace with colourful blooms to demonstrate how an adult zone can be effectively separated from a children's play area. Both Loft Urban and Algarve terrace planters come with integrated wheels so it's easy to adapt a space to suit the occasion.
The eclectic garden
Introducing zones into a garden allows your customers to play with different themes, styles and colours without appearing chaotic. Show how they can group contemporary tall grasses in Pure Soft Brick Long planters at the far end of an entertaining space to screen off a meditation zone filled with whites, neutrals and pale blues beyond. Or incorporate a tropical garden and a cottage garden that don't compete for attention.
The secret garden
Planters are a speedy way to create privacy without waiting for hedges to grow. Encourage your customers to build a perfect sun bathing spot with a screen of climbing plants in Green Basics Garden XXLs. It's a simple way to give room to nature at the same time as disguising an ugly view or drowning out traffic noise and fumes from a busy street below.
Loft Urban Terrace Wheels
Diameter

Height

Litres

RRP

70cmx35cm

32.1cm

51

£39.99

Colours: white, warm grey, anthracite
Algarve Terrace
Diameter

Height

Weight

RRP

80cmx40cm

33.1cm

60

£37.49

Colours: terra, taupe, anthracite
Pure Soft Brick Long
Diameter

Height

Litres

RRP

80cmx39cm

39cm

56

£172.50

Colours: white, stone grey, anthracite
Green Basics Garden XXL
Diameter

Height

Litres

RRP

60cmx30cm
80cmx39cm
100cmx45cm

27.7cm
34.2cm
39.3cm

28
62
100

£16.29
£25.29
£41.29

Colours: leaf green, living black, cotton white, mild terra, cherry, lime green
Elho pots and planters are widely stocked at all good garden centres, retailers and available online.