Food at Webbs Nominated for National Award
Company: Webbs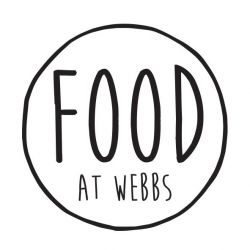 The Food Hall at multi award-winning garden centre Webbs, Wychbold in Worcestershire has been named as a finalist in the prestigious Farm Shop and Deli Awards 2019. This is the second year running that Food at Webbs has been nominated in the 'Food Hall of the Year' category.
The annual awards, now in their sixth year, recognise the success of independent food and drink retailers. For the 12 highly coveted awards judges are looking for the very best standards, levels of service, product innovation and community involvement. Finalists are chosen from the results of a rigorous process that includes a public vote, mystery shopper visits and a panel of food and drink industry experts.
Food at Webbs specialises in providing the best food and drink from local producers as well as offering a premium range of national and international products. 2018 also saw a number of unique collaborations, including production of their own artisan cider from Herefordshire and Worcestershire apples and a pivotal role in launching a range of gourmet salts from Droitwich Salt and Michelin-starred chef Brad Carter. The 6,000 sq foot Food Hall is situated within Webbs Garden Centre, an independent family owned business with a history stretching back over 200 years.
Ed Webb owner of Webbs, said "We are over the moon to have been selected as finalists for the second year in a row. Since winning the award in 2018 the team have been working tirelessly to give each and every visitor a wonderful food and drink shopping experience. This nomination is a testament to that passion."
"It is an honour to be sitting alongside so many other fantastic Food Halls in the category. We're simply delighted to be recognised again by industry experts and most importantly by our customers."
The winners are due to be unveiled at the Farm Shop and Deli Show being held on Monday, April 8th at the NEC in Birmingham.