Q & A with Kimberley Hornby, MD of Hornby Whitefoot PR
Company: Hornby Whitefoot PR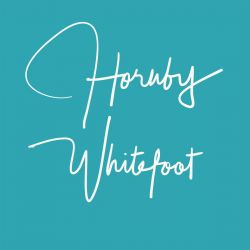 Having represented some of the biggest businesses in the gardening industry, including leading trade organisations and charities, and heading up Glee's PR team for the last ten years, it would be impossible to pitch Kimberley Hornby as a 'rising star'. However, since her appointment as Managing Director of Hornby Whitefoot PR in 2015, her reputation has grown further as she stakes her place as the go-to person for public relations within the industry.
What has been your career highlight so far?
Finally getting the BBC to come to Glee this year (after hundreds of emails and phone calls) was certainly a very recent highlight, as was being made ambassador for Greenfingers, and a member of the Garden Media Guild. Having the support of our clients and editors when I took over from Michelle, and knowing I had a great support network was also a lovely feeling. But I don't really like to rest my laurels on any one event – I'm much more focused on client retention and growing the portfolio. We've added some exciting new clients this year, whilst also holding onto our favourites. In the world of PR, even when you know you've had a solid 12 months, achieving great coverage and creating a buzz for your client – they can still turn around and say that's it. So when they say yes to another year, even when it might be a given, it's a great feeling.
You've got quite a reputation for speed and attention for detail, hard work but also being a lot of fun. What's your secret?!
Sleep. Lots of sleep. And wine! But beyond that, learning not to overthink, and just letting it flow. If the world hasn't stopped spinning then I know it's not been an absolute disaster. Also loving your job is vital. And I do. I truly do love what I do. That's mostly due to the people that I have the privilege of working with, and the fact that I am genuinely passionate about creating the best possible results for my clients, whilst also providing editors with the info they need, when they need it. I know others will agree with me, when a job doesn't feel like work, it becomes a lot more enjoyable, and the results speak for themselves.
Is it true you are also studying for a degree?
I am. I'm currently working on my masters in Psychology. I have to be learning something at all times or else my brain will crumble. I also love a #funfact and am happy to bore people with them whenever possible!
PR is seen by some as a 'nice to have' and others as an absolute necessity. What do you say to those that say they can't afford do it?
I would say can you afford not to? Do you have a monopoly on your sector and are able to control what the media and others say about you with a click of your fingers? Of course not – and that is why I will always argue PR is essential to your business. You need to stand out from the competition and have good relationships with the media. PR doesn't have to be expensive, but similarly you do get what you pay for. There's also a danger of wasting money on package deals that don't take a business' long-term goals into consideration. HWPR's success lies in the fact that we believe it is integral to understand our clients; what message they want to put out; what they need and how PR can support their wider business growth plans. It's all about PR strategy, so looking at the mid to long-term picture. We can build a strategy on any budget, we just need to take the time to work with the client to sort through the most important aspects of their public relations and help them prioritise. From there we can build a PR plan that meets budgets, whilst maximising a wealth of opportunities, and not just using a scattergun approach as I've seen so many other agencies do. We want our clients to understand PR – what we're doing and how their money is being spent. We don't expect them to be PR experts (that's our job) but it's important that they feel they have ownership and understand the results.
Is PR still relevant in the social media age?
Most definitely. If anything, social media has boosted PR – it's just now we have some new avenues of communication. Social media content and PR should be aligned as both are part of the wider marketing and business strategy, because they are a lot similar than you'd think. PR is the upkeep and improvement of a business' reputation – so if a disaster occurs on social media, that immediately affects PR, so it's important you have someone monitoring the conversation online and responding appropriately to keep a control on a situation.
What advice would you give for other young women looking to start out in PR or run their own company?
If you want it, go for it! Don't be scared. There is nothing stopping you apart from yourself. I appreciate I have been incredibly lucky, and will be forever grateful to Michelle for giving me the opportunity to grow and learn. But you also have to carve out a lot of opportunities for yourself. Be brave, but not bolshy - but don't be afraid to ask, or to learn something from those more experienced than you. I'm surrounded by loads of amazing and inspiring women – Vicky Nuttall, Jackie Eades, Linda Petrons, Kate Ebbens to name but a few. There are so many amazing women in this industry, look to them for inspiration – and ignore the haters.
You attend a lot of industry events – how important do you think it is for a PR to do that and do you have any networking tips?
It's fundamental. Networking is incredibly important and I have to credit it for much of what I have achieved. But don't be 'that' PR person, where you are constantly trying to snare a new client or badger an editor. Just get to know people and see where you can help - make yourself useful to both suppliers, retailers and industry associations and they will see your value. One thing to be wary of doing is to mistake a 2am conversation at the bar of an industry event as the perfect time for a PR pitch. Know when to talk shop and when to kick back and spend some time with your clients/industry friends. We work hard so sometimes it's nice to switch off, have a laugh and get to know those you work alongside as people, not prospects.
And finally, you and your team all work from home, what would you say are the benefits of this way of working - and the drawbacks?
From a basic point of view, it reduces our overheads so we can provide a higher value at a lower cost, passing the saving onto our clients. It also means I am not limited by geography so I can access talented staff from all over the country – or allow my team the freedom to achieve lifetime goals such as to travel the UK on a narrowboat if they so fancy (mentioning no names, Robbie Cumming)!
We also live in a time where we are all accessible via our phones – so whether that's via email, calls or WhatsApp or conference calling or using Skype – clients can keep in touch with us wherever we are, and I with my team. We're pretty much in contact 24hrs a day which can obviously put a strain on personal lives at times, but that has always been expected if you work in public relations.
Drawbacks – yes there are some pretty obvious ones, some days you just need to see another face, and loneliness can really make things difficult. When this happens, I pick up the phone to my team, my editors or simply order and return outfits from Asos just to chat to the delivery person. In all seriousness if you've a good internet and phone connection – which we pride ourselves on always having access to - you are never alone and always have the opportunity to talk to someone.
It's a great working system and has so far worked brilliantly for us. Ok - we don't have a snazzy 'break out zone' with bean bags and table tennis – but that's ok. As long as we continue to get results and can continue to enjoy being central to one of the most hard-working, friendly and welcoming industries there is, that's absolutely fine by me.
Hornby Whitefoot PR is owned by Kimberley Hornby and Michael Whitefoot, and comprises of a core senior team including Cassie King and Robbie Cumming, with Michelle Whitefoot and Kabbie Langford supporting on a consultancy basis. Clients include Glee, Johnsons Lawn Seed, Smart Garden Products, GIMA, Garden Re-Leaf Day, Hillview Garden Stores, DJ Turfcare, Deco-Pak and Briers.