Agents required in all areas for Dura-Cart
Company: Halo Basal Limited (Dura-Cart)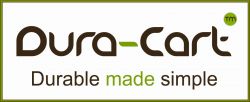 We require agents for all areas of the UK (Excluding SE) to take Dura-Cart to existing customers and venues.
Good rates offered for this exciting new addition to the gardening and outdoor world.
Dura-Cart is a new product for many markets.

The fully aluminium body and frame, folds to a third of it's size for easy transportation and stowage after use.

Weighing only 19.5kg, it can haul a weight of up to 130kg.

Constructed of Aluminium, it won't rust or rot like canvass carts, and is very easy to clean down if necessary.

A choice of two wheels types are available.