Tom Chambers announce innovation in new category
Company: Tom Chambers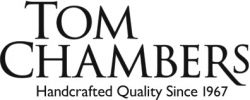 Tom Chambers has announced the launch of a stunning new range of next generation protective Covers for outdoor furniture and BBQs. The new Covers are produced in a brand new innovative two-colour fabric, woven in a stylish contemporary weave.

Demand for quality Covers has increased significantly as a result of garden centre retailers offering their customers higher quality garden furniture. Tom Chambers have designed their new Covers to not only protect the furniture but also add to the overall appearance of the garden or patio.

Tom Chambers has an enviable reputation for producing top quality products for the garden and their new Covers range follows this same ethos. The Covers are available in either attractive two tone green and grey or black and grey giving them a luxury feel and appearance. The chosen material is new to the industry and is way ahead of the current market.

The Covers are manufactured from heavy duty polyester fabric, they are PVC free and have a water repellent, weather proof coating ensuring year-round protection against all the elements. Heavy duty aluminium eyelets with extra strong bungee cords ensure firm security. High quality packaging uses the same material as the covers to form a re-usable carrier bag incorporating product information and full colour graphics designed to stand out in store. The range comes with a full 7 year guarantee.

Commenting on the new Covers, Vicki Medley, Marketing Director said "Our aim at Tom Chambers is to bring products to market which have unique benefits for the consumer. We recognised there was clear gap in the market for protective products and our new Covers range was developed to offer superb protection and in a fabric design new to the sector which moves this category to a completely new level. We believe this range will be a 'must stock' line for all garden centres."

A full range of POS material is available and the products will be featured on the Tom Chambers stand Hall 5 Stand 315 at Solex 9-11th July 2019.