Rustic garden furniture, statues and accessories
Company: Tripod Home Ltd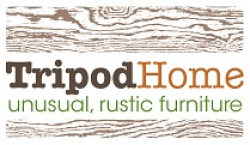 Tripod Home have an exciting range of garden furniture, statuary and giftware guaranteed to add interest to any outdoor space. From our salvaged wood garden benches to our ever-expanding range of stone statues and a quirky mix of unique giftware, there is something here to inject interest and fun into spaces that will get people talking.


Garden Furniture
Our range has been developed over more than 20 years and features items like the Recycled Teak Cart Wheel Bench, Salvaged Boat-wood Steamer Chairs (pictured), Root Benches and the ever popular carved Hand Chairs (pictured next to the Buddha Head).

Statuary
This impressive collection of hand carved and cast stone statues and water features has proved to be very popular, with items like the large Buddha Head, Kamer Head and Chinese Lantern (all pictured) being featured in garden centres across the country.

Gift
All our giftware is chosen to add talking points to outdoor spaces. Tiki Bar signs and colourful Krupup Tins (pictured) add humour and depth to outdoor socialising spaces. Handmade items like the mushroom clusters and planters add texture and interest.

There is so much to see, our website is constantly having new items added and well worth checking out, or why not call or email to have a PDF catalogue sent to your inbox.
www.tripodhome.co.uk/product-category/landscaping/