Take the EKJU journey – a road map of sustainability and high standards
Company: EKJU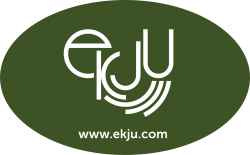 Egons, Klauss, Juris & Uldis were the founders of EKJU, who had a vision to create garden furniture that is crafted with the care and attention needed to ensure the product lasts as long as it takes to regrow a new tree. Since 1992 the company have adopted this ethos throughout the organisation, meaning the EKJU story has continued and evolved to today's high standards.
From the start of the product's journey EKJU are obsessed with sustainability and quality. Their products are constructed using FSC Pine and Siberian Larch that grow in the northern European forests. This live wood is high quality and stronger due to its slow growth, ideal for use on garden furniture for its high density and durable qualities.
Co-founder Juris explains "Our trees grow slowly – they mature over time and have characteristics from their long lives. These natural characteristics make each piece of wood unique and give every piece of furniture personality. Wood is our hero—our source of inspiration—our favourite material: we love its differences, yet we never use defective wood.'
EKJU have strict quality management standards at their 18 acre site in Cesis, Latvia. During production, they hand craft every part of a furniture set, using extensive knowledge, techniques and state of the art machinery to ensure consistently smooth product finishing.
Before preservative treatment, kiln drying occurs in 3 separate kiln ovens where furniture sets are dried in a time controlled environment to ensure a finished product with the correct moisture levels and therefore delivered as dry as technology allows. This process prevents warping or bowing providing the retailer and consumer with a more robust longer lasting product.
EKJU are experts in exporting timber garden products, with 98% of their sales exporting in Europe. Care and attention is dedicated to packaging products ready for transporting. This includes a specially designed online packaging system for e-commerce customers. Standard trade deliveries are palletised, protected and delivered in a neat manner, with UV protection materials available to reduce sun discolouration at customer sites.
EKJU UK Sales Manager, Jurgis Dzerve said 'Our total quality management approach to our products and service means we have a track record of high customer satisfaction levels with our trade customers. We care and get the detail right so that customers have peace of mind and trust in our brand. Sustainability and quality are at the heart of everything we produce, ensuring high standards, whilst also being competitive in the market.'
With the mission of delivering furniture that lasts, bringing people closer together, EKJU's focus remains on the end user's satisfaction and comfort. Therefore, product assembly is made as easy as possible, taking the stress out of assembly and allowing quicker enjoyment of the product. This is achieved by designing products with clear drill and fixing holes, using the best quality fixing kits and easy to follow instructions. EKJU not only have instructions on product labels but now have brand new product assembly videos available on their website and social media, which show a step by step visual guide of product construction.
By crafting furniture in respect for nature, with core quality values, the product road map is at the heart of EKJU's brand. The focus on the end user and attention to detail across their entire range nurtures a drive for the highest product and service standards, a journey that if you take, you will not be disappointed with.
The EKJU team will be exhibiting at Glee Birmingham 2019 at the NEC, 10th to 12th September in Hall 6, stand Q20-R21.