Company: EKJU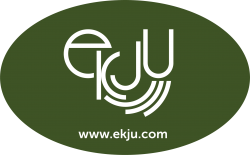 In 1992, EKJU's founding fathers created a vision built around sustainability, craftsmanship and quality. Egons, Klauss, Juris & Uldis were four men with a mission - to create garden furniture that is crafted with the care and attention needed to ensure the product lasts as long as it takes to regrow a new tree. This would ensure years of use, bringing friends and family together in the outdoor environment, becoming closer to nature. Today, this vision is still inspiring EKJU as they strive to create the best quality products from specially sourced strong FSC timber from the northern European forests.
The focus and control on quality at their 18 acre site factory in Cesis (Latvia), twinned with the depth of range in garden furniture, means EKJU can boast a specialism for exports in timber garden furniture with classic designs such as the 'Combined Picnic Table', 'Retro Table Set' and 'Round Table With Backrests', ideal for the UK market.
For Glee 2019, EKJU will be raising the bar, showcasing new products and fresh manufacturing capabilities inspired by European outdoor living trends. There is a new treatment choice to join Green and Brown impregnation options. In response to the rise in popularity in the colour, Grey is now available across the entire EKJU range. This supplies the end user with the ability to create their own easy to assemble grey collection of furniture and matching accessories, such as planters and raised beds.
EKJU Sales & Marketing Director Laura Galzone commented on their focus 'Our heritage as craftsman and focus on quality underpins our strategy of supplying the best range of sustainable timber garden furniture with the end users comfort in mind. Our products offer a solution for end users regardless of the size of their outdoor space and we remain focused on delivering high standards on all of our range so we can deliver the best in market product for our UK partners , whilst also delivering our founders' vision'.
Al fresco entertaining is transformed with the new 'Raised Bar Set' which looks stunning in Grey as well as pressure treated Green. With a robust raised table and 4 carefully crafted matching stools, this set is ideal for those long summer nights where you can enjoy making and serving cocktails with friends.
If you need more space for a family gathering, the 'Cesis Table Set' provides a substantial table and bench solution for up-to 8 people, meaning your guests can dine in comfort for a lunchtime BBQ. Alternatively, place the set in a shaded courtyard and use as a retreat for an afternoon tea with loved ones.
When it's time to wind down into the evening, pick a secluded spot on the decking and chill out together on the 'Double Relax Chair', available in treatment options green, brown or grey. Enjoy the comfort these chairs bring as you savor a glass of wine in the warm summer evening.
With a track record and ongoing ambition to supply quality timber furniture, EKJU's founding fathers vision remains the cornerstone of their success in creating furniture designed to last, and working in partnership with retailers to bring people closer together.
The EKJU team will be exhibiting at Glee Birmingham 2019 at the NEC, 10th to 12th September in Hall 6, stand Q20-R21.
ABOUT EKJU - EKJU is a timber garden product manufacturer, based in Cesis, Latvia. The company was founded in 1992 by four founders - Egons, Klauss, Juris & Uldis and the brand name is based on their first names. EKJU specialize in quality timber garden furniture made from timber sourced from northern european forests. EKJU are committed to sustainability and are members of the forest stewardship council (FSC).