Allensmore Nurseries wins Best Stand Display at National Plant Show
Company: HTA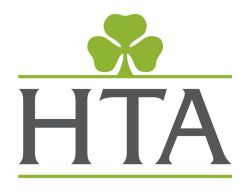 Allensmore Nurseries has been awarded Best Stand Display following the end of the National Plant Show 2022 in Stoneleigh Park, Coventry while Ball won The Visitor Vote.
The Best Stand Display was judged by Sarah Manning, Visual Merchandiser, and Boyd Douglas-Davies, HTA President and Director of British Garden Centres. The winner, Allensmore Nurseries, were also celebrating their 50-year anniversary.
Sarah said, "Their choice of theme was clear throughout, and the stand flowed very nicely. Colours, textures and points of interest were all thought about, which overall created a beautiful stand to walk around."
Additionally, Impatiens Walleriana 'Glimmer™ Appleblossom' which won Best in Show, was dually recognised by winning the Visitors Vote. This plant is characterised by its stunning colour, and features large, iridescent rose-like booms. The well-branched, mounded, and trailing plants are covered with double flowers and are suitable for 10-30cm pots and hanging baskets. The impatiens also features high resistance to Plasmospara destructor, the cause of Impatiens DownyMildew.
Martin Simmons, Director of Membership, said, "The long-awaited physical return of the National Plant Show has given us a valuable opportunity to celebrate the best in the industry. Growers and nurseries demonstrated creativity and skill across the board and created a space that was an inspiration for visitors and a true celebration of British growers."