Wyevale Nurseries staff celebrate two award wins
Company: Wyevale Nurseries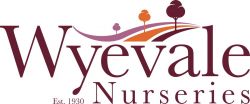 Staff at one of the UK's leading nurseries is celebrating this month (March, 2018) after winning two awards from two garden centre groups it supplies plants to.
Wyevale Nurseries in Hereford was awarded Plant Supplier of the Year 2017 from Klondyke Group and also the Most Innovative Plant Supplier Award from Wyevale Garden Centres, which is a separate company under different ownership.
Colin Stanley, Retail Sales Manager at Wyevale Nurseries, explained: "We were delighted to be awarded the Plant Supplier of the Year 2017 Award at the recent Klondyke Group's annual plant show.
"In our first three years of supplying the group we have thoroughly enjoyed working with the centres and head office team. It's always great to see plants taking centre stage in a retailer's offering. We are looking forward to continuing to build an even stronger relationship going forward.
"To add to this, we were also presented with the Wyevale Garden Centres' Most Innovative Plant Supplier Award. We were over the moon to receive this recognition from one of our key retail customers. We're constantly working with all our retail customers to ensure we select the best new plants available on the market to suit their particular customer demographics and business strategies.
"We have been delighted with feedback from a number of customers who are excited about the range of new plants we are bringing to the market. With our extensive plant development programme there is a new plant suited to most customers' needs."
In the past 12 months Ben Gregory, Product Development Manager at Wyevale Nurseries, has travelled more than 50,000 miles in search of new plants, travelling all over Europe, Australia, New Zealand and trips to the US.
Andy Smith, Head of Buying at Klondyke, said: "Our Plant Managers and Head Office team chose Wyevale Nurseries as our 2017 Plant Supplier of the Year, due to the great quality plants and fantastic level of service they provide. We have been working with Wyevale Nurseries for only a short time but have built up a fantastic relationship and look forward to developing this over the coming years."
For further details about Wyevale Nurseries, which is based in Hereford, please call 01432 845 200, visit www.wyevalenurseries.co.uk, follow the company on Twitter at www.twitter.com/WyevaleNurs or log on to www.facebook.com/WyevaleNurs.