Kyle creates customer Plant Health Information Pack
Company: Wyevale Nurseries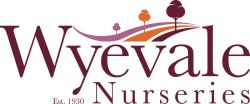 THe Plant Heath Coordinator at one of the UK's leading nurseries has created an information pack on biosecurity to help address the recent concerns related to the topic within the industry (March, 2018).
Kyle Ross from Wyevale Nurseries in Hereford has created a Plant Health Information Pack to hand out to customers to raise awareness of potentially damaging pests and diseases that are currently threatening the horticulture industry.
Twenty-four-year-old Kyle explained: "We feel it is important that businesses working within the sector are aware of these threats and how we can minimise the risk of these entering the country.
"There are various pests and diseases spreading across the world as a consequence of our mobile lifestyle. In recent years Xylella fastidiosa has become a high-risk disease and one we all need to work together to keep out.
"Our Plant Health Information Pack contains information on Xylella fastidiosa, Xanthomonas arboricola var. pruni, Phytophthora ramorum, Longhorn Beetles and Fireblight. We hope our customers find the pack helpful and informative. I am also on hand to answer any customer queries regarding plant health and would be happy to chat to our customers over the phone if needs be. I spend a significant amount of time giving talks to both customers and our own staff on these hot topics."
Kyle joined Wyevale Nurseries in 2016 as part of Wyevale Nurseries' Management Trainee Scheme after completing a degree in horticulture at Worcester University. After 14 months Kyle entered in to his role as the company's Plant Health Coordinator. Within this role he focuses on all aspects of biosecurity, pest and disease and plant quality.
Kyle added: "My day consists of keeping up-to-date with any pest and disease outbreaks in Europe and further afield, as well as any advancements in technology or practices in the industry that could enhance production.
"Wyevale Nurseries is also part of a group of nurseries organised by the Horticultural Trades Association (HTA) to design and implement a nationwide Plant Health Assurance Scheme (PHAS), which is designed to mitigate the risks of potentially harmful plant health incidents. "I was nominated as the coordinator for Wyevale Nurseries participation in this scheme. I collected all the appropriate evidence in preparation for an audit and amended existing protocols to further strengthen our stance on biosecurity." If you would like a copy of the Plant Health Information Pack, please contact enquiries@wyevale-nurseries.co.uk.