HTA awards Pearson Memorial Medal to Mark Gregory
Company: HTA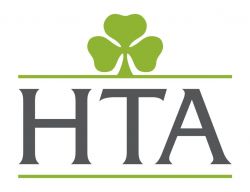 The 2021 Pearson Memorial Medal for outstanding service to the garden industry has been awarded to Mark Gregory, a multi award-winning garden designer from West Cowick, Yorkshire.
The recipient of the annual Pearson Memorial Medal is chosen by the HTA Board after receiving nominations from the Council, HTA Staff and Board members. The Medal for outstanding service to the garden industry has been awarded by the HTA on an annual basis since it was instigated in 1930 in memory of the HTA's first General Secretary, Charles Pearson.
The ceremony took place in person this year and had an atmosphere of pride and celebration.
Mark is the owner of Surrey-based APL member Landform Consultants Ltd, and has been in the horticultural and landscaping industry for over 35 years. Mark was voted the most influential person in the landscape and garden design industry by his peers and in July 2020 he became a fellow of the Landscape Institute and is now a chartered landscape architect.
Mark has exhibited and designed at the RHS shows for many years, and has been involved with over 100 gardens at the Chelsea Flower Show and over 160 show gardens for the RHS across all its shows, making him the most medalled garden builder within the RHS.
He has achieved gold medals at the Chelsea Flower Show on six occasions, in his 100th garden he won Gold, Best Construction and People's Choice. Mark is a senior RHS Garden Assessor and Garden Judge.
Mark's relationship with the HTA and APL have always been strong. He was chair of the APL for 7 years and his legacy of building a community of landscapers is here, live and well to be seen today.
Current HTA President, Boyd Douglas-Davies, who presented Mark with his award, said: "He is an inspiration to many landscapers and designers of today and the future. Always willing to spend time, always up for a challenge. A fantastic ambassador for the industry."
Mark commented: "Totally shocked and utterly delighted to receive this amazing award from the HTA, lovely to have it presented in front of my peers and in particular, many young landscapers who I hope were inspired and motivated at me receiving this coveted accolade".
We are also pleased to announce that Mark will be a keynote speaker at the HTA annual conference on 14th September 2022 at the ICC, Birmingham.