Azpects adds to sales team
Company: Azpects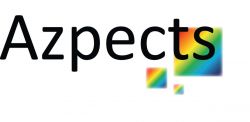 Azpects Ltd, creators of EASYJoint, are pleased to welcome Emma Dallas to our Sales Department, as Regional Account Manager for Retail. Azpects specialise in developing and manufacturing products for creating and maintaining outdoor hard landscaping.
Emma will be supporting Rebecca Cox in the retail division's growth. Previously on the road as an account manager/agent, Emma's background mainly lies in DIY, Garden Centre and houseware supplies.
Additionally, Scott Westwood joins the merchant sales team as Regional Account Manager for the East of England. Scott will be taking over from Lewis Good, who has been promoted to Sales Support Manager. Scott's background has been developing the landscaping department at a garden centre in Cambridge for the last few years. Azpects played a major role in the departments' development, so he brings a plethora of product knowledge and trade contacts with him.
Kevin Ager, Sales Director of Azpects, commented: "As part of Azpects' ongoing growth strategy we have taken the decision to move into the retail market with a variety of our landscaping creation and maintenance products. Emma's many years' experience within the Garden Centre and DIY industry will be pivotal within this role as she joins Rebecca Cox in the Retail Division. Meanwhile, we continue to develop our internal sales support team to ensure that we can provide the high level of customer support that our customers have come to expect. I am happy to welcome Scott to the team and am sure that he will prove an excellent asset to the company".
About Azpects
At Azpects Ltd, we specialise in developing and manufacturing products for the creation and maintenance of outdoor hard landscaping.
Our mission is simple - to deliver products which make common hardscaping and care challenges EASY and less frequent.
Our comprehensive range includes products to help create patios, paths and driveways, and products to help clean and protect surfaces - including paving, decking and ornaments.