BALI's Scotland success story as Tangible Garden takes Best New Show Garden 2017
Company: The British Association of Landscape Industries (BALI)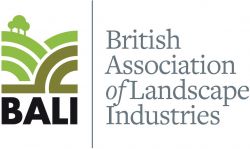 The British Association of Landscape Industries (BALI) is delighted to announce that BALI Designer member Lynn Hill's Tangible Garden, built by Registered Contractor Endrick Landscapes, has won Best New Show Garden and a Silver Gilt medal at Gardening Scotland in Edinburgh.
This was the first ever show garden for Lynn Hill of Lynn Hill Garden Design and brothers Kenny and Lewis Macfadyen from Endrick, with crowds of visitors complimenting the garden's colourful, traditional planting design, celebration of outdoor living and high quality build. BALI's Chief Executive Wayne Grills and Marketing and Communications Manager Darren Taylor were on-hand meeting members of the public who were interested in the Tangible Garden, to promote landscaping and garden design services offered by members regionally. Tangible Garden was also featured extensively on BBC2 Scotland's Beechgrove Garden programme.
Wayne Grills, BALI's Chief Executive, commented; 'Tangible Garden represented a truly collaborative effort across our regional Scotland membership, with support from a wide number of Contractors and Affiliate members who helped with the construction and supply of plants and paving. We are incredibly proud of Lynn, Kenny and Lewis for their award-winning garden and their hard work and efforts in representing the association in such a positive way. The design brief of creating a multi-level, realistic, domestic rear garden that celebrated outdoor living, truly hit the mark, as show visitors loved the concept, inspiring them to recreate the same, or similar style, for their own home.'
Lynn Hill, Principal Designer for Tangible Garden, said; 'This was an inaugural show garden entry for me, and to have won such a prestigious accolade first time around has made me incredibly proud. I have been working as a Garden Designer for over two years, having qualified through the SRUC with distinction, and I am delighted to have worked alongside some truly wonderful BALI colleagues and have been incredibly touched by the public's reaction to my design.'
Kenny Macfadyen, owner of BALI National Landscape award-winning Endrick Landscapes, reiterated; 'This is not usually something that we, as Endrick, would normally enter into, focusing our business more on commercial and private domestic builds, but, to have won Best New Show Garden at Gardening Scotland is a real achievement, something that Lewis and I are incredibly proud to have been a part of, alongside our BALI member colleagues.'
Gardening Scotland was held over the weekend of 2-4 June at a sun kissed Royal Highland Centre, with organisers confirming record numbers over the three days. Visitors were greeted with hundreds of exhibits selling gardening products, as well as stunning floral and horticultural displays alongside a superb array of unique show gardens.
There were further success stories with BALI Registered Contractor GP Plantscape won a Gold medal for their excellent green office exhibit, using only interior planting, inside the Floral Pavilion, whilst BALI ROLO Training Provider member SRUC Oatridge Campus, was also awarded Gold for their historically themed Hortus Homicida show garden and a Gold for their RHS Greening Grey Britain stand entry, as part of a wider competition held in the Pavilion.
Photo – Courtesy of Lynn Hill Garden Design
Top left Lewis Macfadyen Endrick Landscapes - Top right Dugie Clark Clachan Mhor Complete Stonework Services
Bottom far left Wayne Grills BALI CEO – Bottom left centre Lynn Hill of Lynn Hill Garden Design – Bottom right centre Jimmy Gilchrist Managing Director GP Plantscape Chairman of Gardening Scotland – Bottom far right Kenny Macfadyen Endrick Landscapes