Zest 4 Leisure presents cheque for nearly £18,000 to two children's hospices
Company: Zest 4 Leisure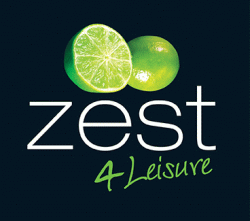 Zest 4 Leisure has celebrated a year of fundraising by presenting a cheque for £17,982.55 to the Hope House and Tŷ Gobaith Children's Hospices. Attending the presentation from Hope House were Andy Goldsmith, Chief Executive, Simi Epstein, Director of Fundraising and Marketing, Nicola Sciarrillo, Fundraiser, and Eluned Yaxley, Fundraiser.
Nominated as Zest's charity of the year for the second time in nine years, Hope House and Tŷ Gobaith provide care and support to children and young people with serious illnesses and life limiting conditions, and their families.
Steve Morgan, Managing Director of Zest 4 Leisure said: "Supporting the local community is hugely important to us as a company which is why everyone again opted to raise money for Hope House and Tŷ Gobaith. I have been very impressed by the creativity and levels of commitment shown by everyone when it came to fundraising and I'm really proud that we have managed to exceed the target. Even better, the money has continued to flow in so we are now on track to raise £20,000 by the end of the year which is fantastic news for the charity!"
Leading the fundraising charge for Zest was Andrew Baker, the company's Finance Director, who completed the physical challenge of running 1,600 miles throughout the year. In addition to training runs, Andrew, a father of four, completed 12 competitive runs including six half marathons, two full marathons, a 10k, a 5 mile dash and a 20 mile running festival, spending nearly 19 hours pounding the pavements all in aid of charity. He also inspired a number of colleagues who didn't think they had the stamina or levels of fitness required to complete half marathons and other running events.
Commenting on the fundraising, Andrew Baker, Finance Director at Zest 4 Leisure said: "We've had a fantastic year raising money for this very worthwhile charity and I'm delighted that I was able to contribute over £2,500 to the total thanks to my 1,600 mile challenge.
"The support that Hope House and Tŷ Gobaith give to families from Shropshire, Cheshire, North and Mid Wales is vital which is why we're thrilled to have smashed our fundraising target. This cheque for £17,982.55 will go a long way to helping children, young people and their families."
Throughout 2019, employees at Zest have joined together to fundraise for Hope House and Tŷ Gobaith. From jumping out of a plane for tandem skydives to getting covered in foam completing an inflatable obstacle course to taking part in 10k runs and half marathons, everyone at Zest has put their best foot forward to raise as much money as they could.
Hope House Area Fundraiser, Nicola Sciarrillo said: "The team at Zest 4 Leisure has truly immersed itself in an array of fundraising activities this year. Their passion for raising funds for Hope House and Ty Gobaith is infectious and has rippled across all areas of the company over the last 12 months. It is an absolute pleasure to be the chosen charity partner for Zest 4 Leisure, the fantastic amount of money they have raised this year will change the lives of children and families who live in our local communities. Everyone at Hope House and Tŷ Gobaith would like to extend their thanks to the team at Zest 4 Leisure and everyone who has supported their fundraising efforts this year."
A family run business, Zest is a leading supplier of high-quality, sustainably sourced timber garden furniture, fencing, trellis, gazebos, arches and a wide range of planters. Committed to employee fitness and long-term well-being, as well as supporting the community, the company has raised almost £100,000 over the last nine years for various chosen charities. The Managing Director, Steve Morgan, was also recently presented with the Lord Barry Jones Legacy Award at the Flintshire Business Awards in recognition of his outstanding services to local business and the economy.