Taylors Bulbs make donation to The Greenfingers Charity for "Little Daffodils"
Company: Taylors Bulbs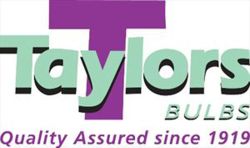 To celebrate their Centenary during 2019, Taylors Bulbs teamed up with nearly 250 garden retailers across the UK to get children gardening through their "Little Daffodils" initiative. Taylors Bulbs supplied over 70000 "Little Daffodil" pots for children to plant with daffodils donated by their local garden centre. Many garden centres ran planting events during the October half-term or the garden centre donated the bulbs, pots and compost to schools for an in-class activity.
As part of the Centenary celebrations, Taylors donated £5 for every bag of daffodils supplied as part of the initiative and this has resulted in a magnificent £4595 being raised for The Greenfingers Charity. Greenfingers is a national charity dedicated to supporting life-limited children who spend time in hospices around the UK, along with their families, by creating inspiring gardens for them to relax in and benefit from.
Speaking about the initiative, Linda Petrons, Director of Fundraising & Communications said "We are so grateful to Adam and the team at Taylors Bulbs for choosing to support Greenfingers Charity on their special anniversary year. This fantastic initiative is not only seeing thousands of Little Daffodils bloom across the country, the money raised will ensure more life-limited children and families will benefit from spending time outside as the number of Greenfingers gardens continue to grow!"
Taylors Bulbs were delighted to be supported by Evergreen Garden Care, The Greener Gardening Company and Westland Horticulture who all generously supported retailers with their compost needs for the initiative. "Little Daffodils" pots (made from 100% recycled material and 100% recyclable) were supplied by Poppelmann and the printing on the pots was supported by Dejex.
Taylors Bulbs are the UK's leading supplier of flower bulbs, growing and supplying flower bulbs since 1919. At the helm of the family business is Adam, his cousin Sam and Sam's father Roger overseeing the family owned business.