EKJU's on trend products featuring at Glee
Company: EKJU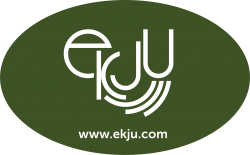 Garden timber furniture experts EKJU, are showcasing new on trend products and capabilities previously unseen in the UK timber furniture market at Glee 2019.
EKJU stay close to trends across Europe and have an assortment of new garden furniture products and accessories that the UK consumer will love. The range consists of Picnic Sets, Table & Bench Sets, Garden Benches & Chairs as well as fantastic 'grow your own' products such as Raised Beds and Planters.
EKJU predicts a rise in the popularity of outdoor living related products over the next 5 years. There has been previous trends such as 'zoning' outdoor spaces for differing uses in the garden and now consumers are looking take it one step further to use decorative products to extend the internal themes in the house into the garden. As a result this is likely to increase popularity in painting outdoor furniture and accessories a consistent colour throughout the garden. After extensive market research in identifying the top trending colours' in European gardening, Grey treatment is now available across the entire EKJU range. This joins the green and brown treatment options and enables the end user to create a grey collection consisting of timber furniture and accessories, to complement the desired decorative look and colours in the garden.
After another summer of rising temperatures and most consumers resisting the urge to move house before Brexit, a 'stay and improve' movement is likely to produce increased demand for outdoor furniture for 2020 outdoor entertaining. Look no further than the EKJU 'Raised Bar Set', a robust raised table and 4 carefully crafted matching stools. This stunning set transforms an area of the garden into an outdoor entertaining area, ideal for having friends over for Friday night drinks and tapas.
Increased awareness of climate change and heightened sustainability movement against single use packaging have been 2 recent trends that have led to a buoyant traditional 'grow your own' market. There has also been a shift towards younger audiences interested in 'grow your own' leading to alternative space saving products for end users who have smaller gardens and outdoor spaces. EKJU have options for all audiences, from traditional Raised Beds, Raised Planters and Hanging Shelving for herbs and pots. EKJU designed the Outdoor Hanging Shelving range for 'grow your own' enthusiasts with a smaller available space for growing herbs and plants, as well as a decorative option for displaying flowers, supplying a fantastic vertical planting solution. The shelving sets are available in 3 treatment options – green, brown or grey and come complete with fixing kits for assembly on a wall.
EKJU Sales & Marketing Director Laura Galzone explained 'End user trends are extremely important to us and our knowledge of these are invaluable to our retail partners. We are close to trends throughout Europe such as outdoor living & vertical planting and are showcasing products linked to these trends at Glee'
As well as demonstrating on trend solutions on their exhibition stand, EKJU have also sponsored the Glee Retail Lab, an exciting and innovative feature area showcasing future product, in-store experience and merchandising trends. For Glee 2019 the Retail lab have selected relevant EKJU products linked to key trends for 2020 and beyond.
Whether it's about consumer habits, colour preferences or sustainability, the EKJU team are available to discuss key trends in relation to their garden timber range at Glee 2019 Hall 6, stand Q20-R21.