Wyevale Nurseries reports the best May sales ever
Company: Wyevale Nurseries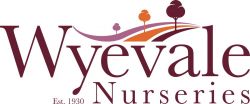 Members of staff at one of the UK's leading nurseries are celebrating this week after announcing it had the best May ever in its recorded trading history with sales up by 14% (2018).
Wyevale Nurseries in Hereford, which was founded in 1930, also reported year-on-year (2017-18) growth of 17% in shrub sales and 19% in herbaceous and 60% in the sales of ferns.
Adam Dunnett, Sales & Marketing Director at Wyevale Nurseries, explained: "After a very challenging start to the year, with sales affected by the long winter and adverse weather conditions, we will be in a positive situation year-on-year by the end of June.
"We revamped and increased our fern range last year, due to seeing a surge of interest for the plant, and this has paid off. We found this year that there has been a demand in both retail and amenity/garden design markets, which has definitely helped increase our sales. The late spring also meant we got several months' sales for ferns in one month.
"Early June sales have continued at record levels and it looks set to be another record breaking month. This is fantastic news and the sunny weather is certainly helping."
For further details about Wyevale Nurseries, which is based in Hereford, please call 01432 845 200, visit www.wyevalenurseries.co.uk, follow the company on Twitter at www.twitter.com/WyevaleNurs or log on to www.facebook.com/WyevaleNurs.