AQUA 2019 gets off to successful start and the announcement of the 2019 New Product Awards
Company: AQUA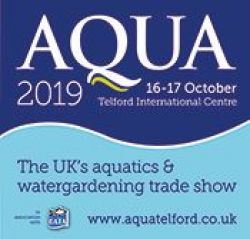 The opening day of AQUA 2019 has been hailed a great success by exhibitors who unveiled an amazing array of products at Telford International Centre.
The excitement has been building for months with over 80 companies planning their new launches around AQUA 2019, and it led to a constant buzz throughout the first day.
An exciting addition to this year's exhibition is the aquascaping demonstrations by American-based Luis Navarro, who is producing four unique tank designs during the show. These inspiring designs have been designed to provide retailers with ideas on how they can inspire their customers to create something special in their own tanks.
Every visitor who attends the demonstrations, sponsored by ALF, is in with a chance to win one of the four fully aquascaped aquarium sets worth £700 (RRP) each.
Following the successful first day, the AQUA dinner promised to be another memorable occasion with over 500 buyers and exhibitors booked to attend. During the evening the New Product Awards, which produced a record number of entries this year, were being presented.
AQUA 2019 New Product Awards revealed
The winners of the AQUA 2019 New Product Awards were chosen by a panel of highly respected aquatic retail judges, and were presented with their honours at a special dinner attended by over 500 guests on Wednesday, October 18.

The judges chose the winners of seven categories from the highest number of products ever entered at an AQUA show ever – 110 in total.
Their decisions took into account a number of guideline criteria such as product innovation, design, quality, packaging and value for money.
The judges agreed that the New Product Showcase, sponsored by pbwnews, had produced a high calibre of entries with a tremendous variety of innovation.
The awards were presented by show organiser Gordon Thomas and OATA Impact chairman Dr David Pool.
Here is a full list of the winners together with the judges' comments:
Marine Food, Care, Accessories & Decor
Winner: Marine Lab Multi-Test Kit
Entered by: NT Labs
The judges said: The customer-friendly winning product had eye-catching packaging, which provided the consumer with some very important information about water testing. Any product that encourages fishkeepers to test the water in the their own tanks more often is a welcome addition to the market.
Marine Equipment & Aquaria
Winner: Dosetronic
Entered by: Aquarium Connections
The judges said: A lot of thought and time has gone into this product to suit people with busy lifestyles. It is a professional piece of equipment that is very user-friendly.
Freshwater Equipment & Aquaria
Winner: OakStyle 230 Urban Grey
Entered by: Aqua One
The judges said: This product offers great value for money, and will attract new customers into the market. It's also looks good and will fit neatly into the home. It's keeping up with lifestyle trends.
Aquarium Food, Care, Accessories & Decor
Winner: Waste-Away Gel Freshwater
Entered by: Aquarium Systems UK
The judges said: This product is very user-friendly and will encourage repeat sales.
Pond Equipment & Construction
Winner: Smart Lights
Entered by: Certikin
The judges said: This LED lighting system has some nice and attractive features, and will appeal in two sectors of the markets – ponds and gardens.
Pond Food, Care, Accessories & Decor
Winner: Deep Water Oxygenators
Entered by: Anglo Aquatic Plant Ltd
The judges said: Pre-packed in an aquatic basket, the winning product not only looks good it is also easy to handle.
Reptile
Winner: Herptile Premium Reptile Food
Entered by: Hikari
The judges said: Attractive packaging made this product stand out.