Company: Anglo Eastern Trading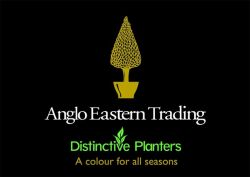 Now is the time to have a fresh look at what you can offer your customers in the garden container & planter category for 2021.
Anglo Eastern Trading will be introducing over 20 NEW products and additional colours in 2021, incorporating the very latest on trend designs, with Pantone colours, stone finishes, colour fusion, metallic colours as well as all the firm favourites.
For the most comprehensive range of distinctive planters, have a look at what we can offer you for 2021.
You will not be disappointed!
Extensive range of distinctive planters
Bespoke product design, from CAD to finished product
Modern designs, colours, collections and ideas
POS excellence
Affordable and value for money range for an increasingly cash conscious consumer
See your volumes and profits grow
No.1 supplier to UK growers
Team of dedicated professionals, with over 50+ combined years of horticultural experience
Our expertise is in planters, pots, baskets and containers
Let us show you an impressive range of planters...you won't be disappointed
Sales agents throughout the UK are waiting to discuss your requirements
Not convinced? - Ask for a FREE box of samples to discover what we can offer
Our new 2021 Trade Catalogue wil be available by November. Get your copy ordered now!
Pre-season terms avaiable T&C's apply
For more details on our NEW products for 2021, including our new Catalogue, please contact us directly and we can arrange for one of our Sales Agents to visit you.