'Shout it Out and Let Um Hear'
Company: Durston Garden Products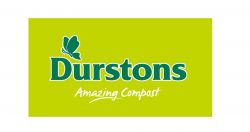 Garden Centre Buyers are often faced with extreme busy periods during this time of the year and as a result need to know that there are companies out there that can deliver at very short notice and in double quick-time.
That's why Somerset based Durston Garden Products is shouting from the rooftops about its 'five day' delivery promise following receipt of order.
Its comprehensive range of peat and loam based composts includes everything a garden centre needs, ranging from the most popular Multi Purpose, to seed and cutting compost, Bulb Fibre, John Innes ranges and much, much more. Composts which are suitable for all types of gardens and for use all-year-round.
All Durstons composts are home-produced here in the UK, which gives the company an advantage over many of its competitors. On top of this, the quality of the growing media that they produce, and the value-for-money its products offer, is well documented. Wat's more you won't find Durstons products cheaper in any of the supermarkets either!
So if your looking for a new supplier this season that wont let you down, or just a temporary supplier to fill-the-gap, be sure to visit the Durston website www.durstongardenproducts.co.uk , or better still call the sales team on:
01458 442688 where they will be waiting for your call.