Many good reasons to visit Scotland's premier fine food event
Company: Scotland's Speciality Food Show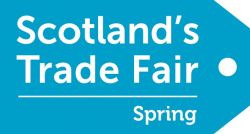 Be the early bird and re-stock first when thousands of fine food retailers across the UK will head to Scotland's only speciality food trade show at the SEC in Glasgow from 20-22 Jan 2019. Registration is now open for your complimentary entry ticket.
So why visit Scotland's Speciality Food Show? Here's 12 good reasons:
The variety and quality of exhibitors is exceptional this year with almost a third as new exhibitors, such as Edinburgh Cakes and Jams, CoCo Chocolate, Deans of Huntly, Seedlip Drinks, Aye Pickled, Puddledub Food Co, The Dessert Depot, Spice Kitchen, Succulento premium sauces and many, many more. This Show is certainly the place to discover what's new in the food and drink world.
The Launch Gallery – here about 21 young, innovative companies will showcase their products such as Hungry Squirrel, Scottish Bee Company, Birken Tree Drinks, Isle of Skye Smokehouse, Libber Tea, Rora Dairy, and The Great British Vermouth Company.
Regional aisles – The Orkney Aisles, a show stalwart, has some delicious producers from the Orkneys, while new this year is A Taste of Shetland, with producers such as Mirrie Dancers chocolates, Valhalla Brewery, Thule Ventus etc; East Lothian Food and Drink and Invest Northern Ireland, so visitors can source products by region.
New for 2019 is Nessie's Den – selected exhibitors will have the chance to pitch their products to 3 key buyers – Emma Niven from Loch Leven's Larder, Sue Montgomery from Ardardan Farm Shop and café and Nikki Castley from The Cress Company - in an entertaining and useful interactive session.
Established exhibitors are back in their droves with some great new product launches promised from Folkingtons Drinks, Summerhouse Drinks, Crystals Shortbread, Little Herb Farm, The Gin Bothy, Mackies, Brodies Coffee and Tea, Stewart Tower Dairy and Galloway Lodge Preserves.
Improve your retail skills at the Seminar Theatre where retail experts will provide workshops and seminars on many vital aspects of retailing such as using social media to get business, how independent retailers can compete against the big boys, visual merchandising, working with digital influencers and maximising the tourist market.
Foodie Tuesday – seminars and events will be geared especially towards food and drinks on the Tuesday.
The best products in the Show will be picked out and exhibited in special design cases in the Best Product Awards judged by a highly experienced line-up of judges including Scotland's Chef Gary Maclean, Alison Niven from Gloagburn, Gillian Allsop from Klondyke Garden Centres and Kieran Austin from Roots & Fruits.
With the popularity of drinks, especially gin, there has been a rush on stands from drinks companies, including Lundin Distillery, Blackford Craft Distillery, Northumberland Spirit Company, Pixel Spirits, Lussa Gin, Genius Brewing, Teasmith Spirit Company, Coul Brewing Company and more.
Trading up - Scotland's Speciality Food Show is run in conjunction with Scotland's Trade Fair where about 500 gift, homewares, craft, jewellery, fashion accessories, clothing and textile producers will be on display, allowing buyers a 'one-stop' buying platform.
Held at the SEC, in the centre of Glasgow, in one large hall, it is easy to access from motorway, train and airport with many large hotels close by.
Scotland's fine food has an unrivalled reputation the world over as quality, tasty and interesting products. To build on this success and notoriety, this Show will offer retailers a first chance in 2019 to source the new ranges and place orders.
Catriona Farquharson from Finzean Farm Shop in Aberdeenshire said: "Ensuring we keep attracting our regular and new customers means sourcing new products as well as old favourites. There are a huge range of new products being brought out all the time right across the board which is why it makes going to Scotland's Speciality Food Show each year much more fun, exciting, necessary and also worthwhile!
Registration is now open so sign up now for your free ticket:
https://registration.n200.com/survey/16bux9jtire6z