IGCA 2022 welcomes almost 200 delegates
Company: IGCA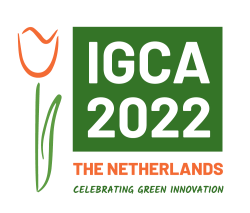 After two years of absence, garden retailers can finally meet again at the IGCA 2022 Congress in Amsterdam. Currently, almost 200 delegates registered already to join the Congress which starts on Sunday the 28th of August and ends on Friday evening, the 2nd of September.
IGCA is a great place for inspiration, education and entertainment. Garden retailers from all over the world gather together to discuss ideas and challenges they have. Every garden retailer, big and small, is learning and sharing during the Congress which makes it a unique experience. There are still some weeks left to register for the Congress.
10 garden centre visits
The IGCA will visit 10 garden centres in the Netherlands. Centres on the list are a mixed variety of big destination garden centres like Intratuin Barneveld, newly built centres like Tuincentrum Abbing and centres focused on plants like Plantencentrum Velden.
This mix assures everyone can find ideas & tips which can be applied once back home.
Breeders & suppliers
Apart from the garden centres that will be visited, IGCA will travel to some outstanding breeders and suppliers. On Tuesday, the tour will have dinner and Schoneveld Breeding, a breeder of Cyclamen, Primula and Ranunculus. The ELHO factory in Tilburg will also be visited. ELHO invested a lot in sustainability and will give a presentation on how they made this happen.
Amsterdam
Apart from this, there will be multiple cultural visits in & around Amsterdam:
Rijksmuseum
Van Gogh museum
Canal tour
This is Holland!
Floriade 2022
And for those who want to see even more stores, a self-guided retail tour in Amsterdam will be available as well on Wednesday afternoon.
Register today
More information about the IGCA 2022 Congress can be found at www.igca2022.nl. Registration is open until the 31st of July.