Green-tech has you covered!
Company: Green-tech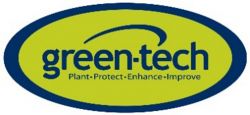 Leading landscape supplier Green-tech is well known for tackling new challenges quickly and head-on.
As it's now mandatory to wear a face covering in shops, supermarkets, petrol stations and most other establishments; Green-tech has once again gone above and beyond to keep colleagues in the industry safe and on right side of the current legislation.
They have designed and produced limited-edition face coverings which they are giving away on a first-come-first-served-basis.
Managing Director Rachel Kay comments, "It's been a tough few month for everyone and we thought we'd bring a little light relief to a serious matter. We have supported the industry throughout the Pandemic. We had a skeleton team that kept working to keep those who could work, supplied with landscaping materials. We just want to go that little bit further now and give essential face coverings to industry colleagues. We're providing Protection in the right Direction! Rather than a mask we thought our versatile buffs would be better for our industry. Unlike a typical face covering the buffs can be styled in many ways. Each one comes individually wrapped with 10 plus ways to wear. We look forward to seeing the attempts to follow the instructions!"
Anyone wanting a Green-tech face covering should head to their website – www.green-tech.co.uk/weve-got-you-covered to request yours. If you email a photo or selfie wearing yours to marketing@green-tech.co.uk then you'll also be in with a chance to win a case of wine. Green-tech will be choosing a winner at random on Tuesday 1st September 2020