Zest 4 Leisure smashes charity fundraising target!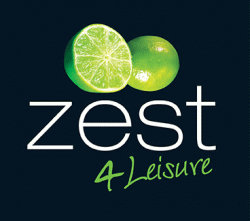 Zest 4 Leisure is proud to announce that its employees have raised over £15,000 for Hope House and Tŷ Gobaith, the company's chosen charity for 2019.
Collectively, employees have smashed the £10,000 fundraising target by pounding the streets, taking to the skies and getting covered in foam bubbles as they conquered giant inflatables!
Zest's Finance Director, Andrew Baker, has lead the charge with his pledge to run 1,600 miles before the end of the year. So far, Andrew has raised over £2,450 by completing 199 runs, clocking up over 1,360 miles in the process. With just a couple of months left to achieve his goal, Andrew completed the Yorkshire Marathon on 20 th October and is considering taking part in the Santa Dash in Flintshire in December for fun.
Commenting on his challenge, Andrew Baker said: "I'm really pleased with my progress so far and I should hopefully have completed all 1,600 miles by early December. The support I've had has been fantastic and I can't thank everyone enough who has made a donation and helped me raise £2,450 – here's hoping it continues to go up!
"Hope House and Tŷ Gobaith are amazing in the support they give to children and young people, but they can't do it without our help. That's why, as a father of four who loves running and keeping fit, I wanted to raise as much money for them as I could, hence my 1,600 mile challenge."
Across the company, Zest 4 Leisure employees have been putting their best foot forward to raise money for Hope House and Tŷ Gobaith. Back in June, a team of 25 successfully completed the 5k Gung-Ho! Chester course. Covered in foam bubbles, the team tackled enormous inflatables up to 50m long and eight metres high, raising £1,634 in the process.
Proving they have a head for heights, 10 gutsy employees took to the skies in May to perform tandem skydives, jumping from an eye-watering 10,000 feet and freefalling for 30 seconds before the rip cords were pulled. All were relieved and delighted to make it back to terra firma, especially the one employee who had never even been on a plane before!
Zest 4 Leisure's Managing Director, Steve Morgan, said: "It's great news that we have smashed our fundraising target and we still have a couple of months to go before the end of the year.
"I'm really proud of the team at Zest 4 Leisure. Every year they go above and beyond to raise money for charity, however, they really excelled themselves this year with a tandem skydive! Andrew has also done an incredible job and is close to completing his personal 1,600-mile challenge.
"I'd like to thank each and every employee for their commitment to raising money for charity – they've done a fantastic job this year!"
Hope House and Tŷ Gobaith children's hospices provide care and support to children and young people with serious illnesses and life limiting conditions, and their families, from Shropshire, Cheshire, North and Mid Wales. 2019 is the second year that Zest has chosen to support the charity.
A family run business, Zest 4 Leisure is committed to employee fitness and long-term well-being, as well as supporting the community and raising money for charity.
Anyone wishing to help Zest's fundraising activities can make a donation here.