Zest 4 Leisure clocks up the miles and takes to the skies for charity
Company: Zest 4 Leisure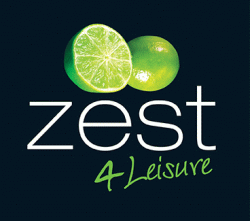 Employees of Zest 4 Leisure are clocking up the miles and taking to the skies to raise money for Hope House and Tŷ Gobaith, the company's chosen charity for 2019.
Leading the fundraising charge is Zest's Finance Director, Andrew Baker, who has raised almost £1,200 through his quest to run 1,600 miles by the end of the year. So far, Andrew has done 85 runs, clocking up over 600 miles in the process. He completed his most recent – the Chester Half Marathon – with a personal best time of 1 hour 28 minutes, finishing 170th out of 4,350 runners!
He also finished the Manchester Marathon in April in a very credible three hours and 21 minutes and has taken part in the Wrexham Running Festival, the Village Bakery Wrexham Half Marathon and the Twin Piers 10k. Andrew is now training for future challenges including several half marathons plus the York marathon in October.
Commenting on his achievements, Andrew Baker said:"Hope House and Tŷ Gobaith are amazing in the support they give to children and young people, but they can't do it without our help. With this in mind, and as a father of four, I am committed to raising as money for them as I can and am aiming to run 1,600 miles this year in marathons and other challenges.
"To have raised nearly £1,200 by this point in the year and with over half the target distance remaining, hopefully means I'll be able to get close to doubling the amount raised."
Elsewhere in the company, 10 plucky Zest employees took to the skies on 18th May and performed tandem skydives at Tilstock Airfield in North Shropshire. All the gutsy employees were back on terra firma by midday after jumping from a dizzying 10,000 feet and freefalling for 30 seconds before pulling the rip cord. Everyone was thrilled to have completed the jump safely and for one employee it was not just his first skydive but also his first time on a plane!
Steve Morgan, Managing Director of Zest 4 Leisure said: "It never ceases to amaze me how committed our employees are to raising money for charity. As this is the second time we have selected Hope House and Tŷ Gobaith as our charity of the year everyone seems determined to go above and beyond what's normally expected.
"Andrew is setting a fantastic example with his 1,600-mile challenge and I am very proud of the team of brave 10 employees who threw themselves out of a plane all in the name of charity. It's great that we've raised over £5,000 so far, however, we've set ourselves a target of £10,000 so we're not quite there yet."
This is the second time that the company has chosen to raise funds for the children's hospices which provide care and support to children and young people with serious illnesses and life limiting conditions, and their families, from Shropshire, Cheshire, North and Mid Wales.
Employees at Zest have a number of different fundraising activities planned throughout the remainder of the year including the Lake Vyrnwy Half Marathon on 8th September.
A family run business, Zest 4 Leisure is committed to employee fitness and long-term well-being as well as supporting the community and raising money for charity.
Anyone wishing to help Zest's fundraising activities can make a donation here.