New gardens and nature campaign targets better health
Company: Thrive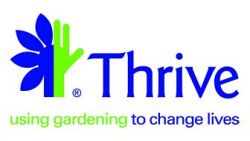 Reducing stress and anxiety by connecting to the therapeutic power of gardens and nature is the target of a new campaign being launched today.
Spending time in green spaces has proven benefits for mental and physical health which the gardening-for-health charity Thrive and family-owned garden centre group Notcutts want more people to access through a new free tool called Cultivating Wellbeing in Gardens and Nature.
Time spent in green spaces can have a real impact on mental health, with the value of one outdoor experience programme estimated to save around £7,000 in NHS costs, benefit reductions and increased tax contributions per participant.1
Cultivating Wellbeing in Gardens and Nature is a free course, available for everyone to access, that not only explains the advantages of being in the great outdoors but will guide users so they can create their own health and wellbeing plans to make best use of what nature offers.
Kathryn Rossiter, Thrive's CEO, said: "Poor mental health is one of the biggest challenges confronting the UK today and our campaign is all about tackling this with a proven method – increasing access to nature.
"Thrive's 40 years of experience tells us that when people connect with gardens and green spaces, symptoms of stress, anxiety and depression are markedly reduced, and in an era when our health services are under strain, this is a message worth spreading far and wide."
Gardeners' World presenter and Thrive Ambassador Mark Lane, who trialled Cultivating Wellbeing in Gardens and Nature, said: "As someone whose health and outlook have improved dramatically as a result of being in gardens, this is a valuable and much-needed initiative to encourage more people to tap into what nature freely provides."
Feedback from others who have trialled the course has been positive:
Shelley Sishton, from Kent, said: "I thoroughly enjoyed it, found it stimulating, full of good, practical ideas, help and information. The healing power of nature and the essential connection with the heart of nature is the missing link in many people's lives but this resource highlights the benefits of reconnecting beautifully."
Katy Perceval, from London, said: "Green space, blue space, indoors, out, country, town – Cultivating Wellbeing in Gardens and Nature shows the choice is ours, with useful materials that encourage an open mind and fresh perspectives to support a healthier sense of self."
Thrive is the UK leader in using gardening to promote better health and overcome social isolation. The charity has developed this resource with support from national family-owned garden centre group Notcutts, who are advocates for wellbeing through gardening.
Caroline Notcutt, Vice-Chairman of Notcutts, said: "We are passionate about the benefits that gardening can bring to mental and physical health, and we are delighted that through this free online course, we can give everyone the opportunity to learn and experience these benefits.
"At Notcutts, we have a fantastic link to health and wellbeing through gardening as my Great-Grandfather, Roger Crompton Notcutt, was advised to work outdoors due to ill-health. It was then that his passion for horticulture began and Notcutts was founded over 120 years ago. We are proud that Notcutts is founded on wellbeing and we are pleased that the benefits of gardening are now being recognised and shared more widely."
People can participate in Cultivating Wellbeing in Gardens and Nature via: www.thrive.org.uk/nature