Greenfingers Charity begins work at Rainbows Hospice!
Company: Greenfingers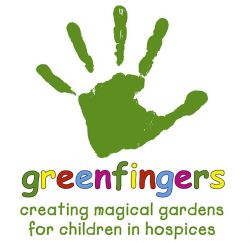 Early this week work officially began on the new Remembrance Garden at Rainbows Hospice for Children and Young People in the East Midlands – the first Greenfingers garden to be created following the easing of the nationwide lockdown.
This garden designed by VaRa Garden Design and supported by the landscape team at Alfresco Landscaping, will ensure this very special and unique place continues to be a peaceful space where families can visit, reflect and remember. The brief set by the hospice staff was to create "a garden which will reflect the beauty of each child whose memory is held in this space". The Remembrance Garden has been redesigned to optimise the existing footprint, whilst sensitive expansion plans will add new areas of interest and more places for families and staff to come to remember those that lost their brave fight against illness.
With work now underway it will only be a matter of months before families and hospice staff can enjoy new paths which will create a journey through the garden, as well as new trees and seating which will help to create quiet corners for peaceful reflection. Increased planting and sculptural elements, along with a water feature will help to soften the noise around the garden.
The new centre point of the garden will be a stunning steel memorial tree. Created by local metal company, Caltef Designs, this bespoke memorial tree will offer bereaved families the opportunity to attach a personalised glass memorial leaf to commemorate their loved one. This incredibly unique tree will create a beautiful focal point in the centre of the garden, providing an ongoing heart to this special place.
Talking about the many plaques that currently adorn the Remembrance Garden, Rainbows' Psychological and Bereavement Lead, David Hamilton, said: "We are enormously grateful to Greenfingers Charity, VaRa Garden Design and Alfresco Landscaping for their sensitive and professional approach to this project. We feel confident that the work will be done respectfully to ensure that existing memories made in the garden will not be lost."
David went on to say: "We look forward to a garden which will provide a beautiful reflective space in which to remember such special children and young people both now and long into the future."
Linda Petrons, Director of Fundraising & Communications at Greenfingers Charity, said: "We are so pleased to see work starting once again after what has been several months of uncertainty, and are so grateful to the staff at Rainbows Hospice for their patience ahead of work starting. We appreciate that grief, however, has no timeline so the garden is as important as it ever was and a vital part of the work of the hospice.
"We are confident that the incredible updated design by the team at VaRa will help to provide an even more stunning place for families, friends and staff to remember loved ones and a place in which they can reflect on their precious time together. By making some changes to the garden and creating a new central heart, I am sure we will enhance what is very special space. We look forward to seeing progress in the weeks ahead and hope that all at Rainbows Hospice will love what we, VaRa and Alfresco Landscaping create for them. We look forward to sharing updates from the site over the coming weeks and months."
Find out more
Rainbows Hospice provides vital care and support to families impacted by life-limiting conditions and offers end of life care, symptom management, short breaks and respite care, as well as psychological and bereavement support, outreach and sibling support. Further information can be found at www.rainbows.co.uk.
To find out more about the wonderful work the Greenfingers Charity undertakes please join in the conversation by joining Greenfingers on social media - www.facebook.com/Greenfingerscharity, @GreenfingersCha on Twitter, and @Greenfingerscharity on Instagram and LinkedIn.